H1 Rehabilitation Project Page
ROAD WORK – H1 (WB) Rehabilitation from the Airport Viaduct to Salt Lake Boulevard
From October 21, 2022 to May 29, 2023
Project Description:
Please be advised there will be road work on the H1 freeway in the westbound direction starting near the Arizona Memorial & Stadium offramp (Exit 15A) ending near Salt Lake Boulevard. The construction work is scheduled to begin on October 21, 2022, to May 29, 2023. Road closures will be on the weekends starting Friday night at 8:00pm and ending on Monday morning at 2:30am. Two right lane closures will be implemented on Friday night at 8:00pm, a third lane will be closed on Saturday night at 8:30pm and a full westbound closure will be implemented from Sunday morning at 8:00am to Monday morning 2:30am. Detour map below for the full freeway closure. H1 motorists will be forced to take Exit 15A "Arizona Mem & Stadium" onto Kamehameha Hwy. Detour signs will guide motorists back to the H201 freeway. Motorists will continue on Kamehameha Hwy, take a right on Salt Lake Blvd, left on Kahuapaaani St, right on Ulune St and then back onto the H201 freeway. The work consists of resurfacing and construction of the asphalt roadway. Additional activities include guardrail replacement, sign installations, pavement striping and markings. Motorists are advised to allow extra travel time while driving through the work areas. Please observe all traffic controls and posted signs; expect detours and delays.
Hotline:
Should you have any questions or concerns, please call the Grace Pacific, LLC project hotline at (808) 913-5416.
Project Site Map: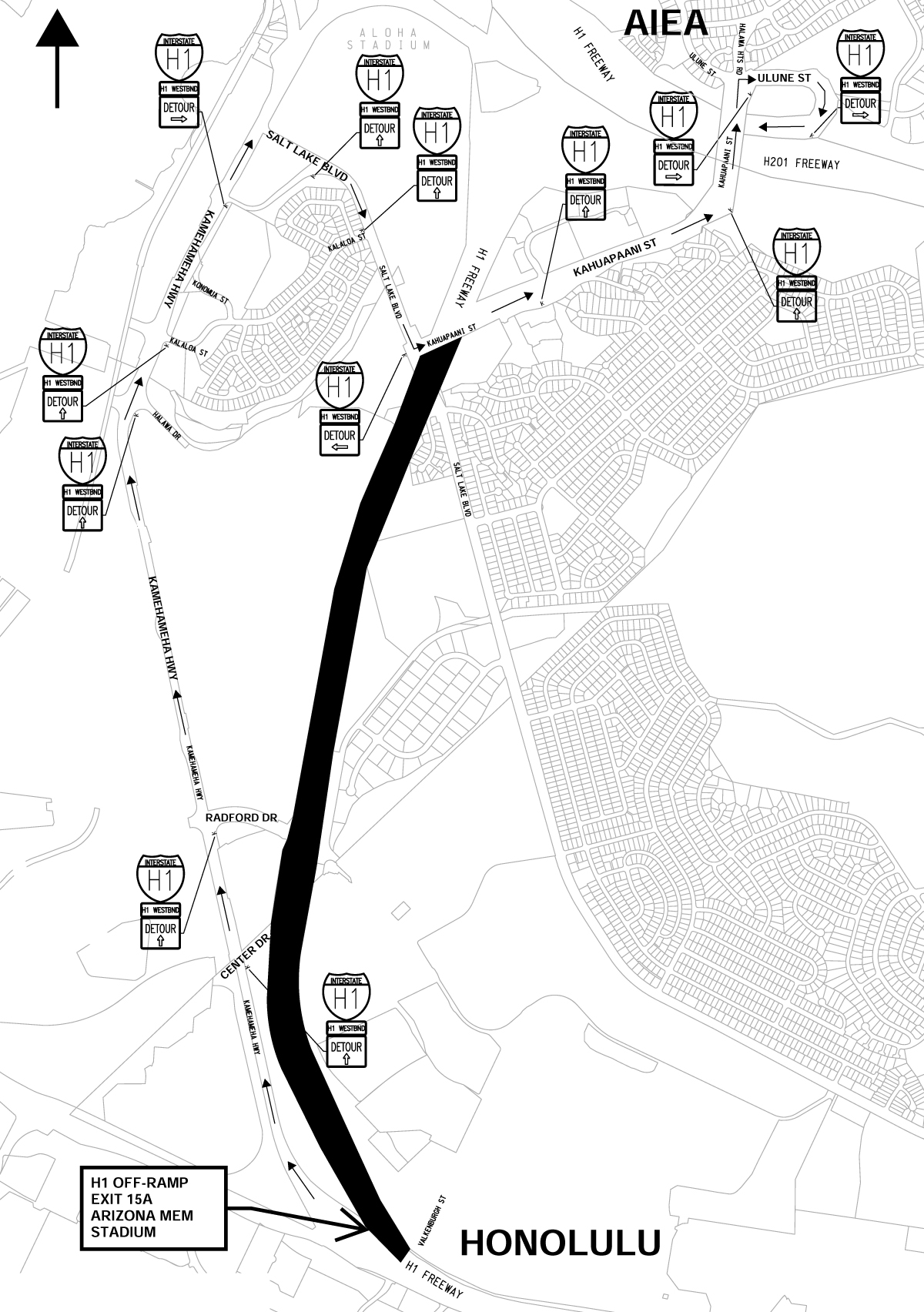 Project Schedule:
Weekend #4 - 12/02 to 12/03
-Temporary resurfacing and leveling of all lanes between the Radford Drive overpass and the pedestrian overpass.
Weekend #5 – 12/09 to 12/12
-Mill existing asphalt and repave freeway near exist 15B JBPHH offramp
Weekend #6 – 12/16 to 12/19
-Mill existing asphalt and repave freeway near exit 15A – Arizona Memorial & Kamehameha Highway offramp
Work Progress Narrative:
Weekend #1 – 10/21 to 10/24
-Removal of existing guardrails between Exits 15B - JBPHH and 15A – Arizona Memorial & Kamehameha Highway
-Removal of invasive Opiuma Trees in the shoulder between Exits 15B - JBPHH and 15A – Arizona Memorial & Kamehameha Highway
-Removal and reconstruction of the asphalt concrete gutter in the shoulder between Exit 15A – Arizona Memorial & Kamehameha Highway and the Kamehameha Highway overpass
-Removal and reconstruction of the asphalt concrete gutter in the shoulder between the Kamehameha Highway overpass and the H1 Freeway onramp from Nimitz Highway
-Setup of temporary barriers
Weekend #2 - 10/28 to 10/31
-Removal and reconstruction of the asphalt concrete gutter in the shoulder between Exits 15B - JBPHH and 15A – Arizona Memorial & Kamehameha Highway
-Removal and reconstruction of the asphalt concrete gutter in the shoulder between the Radford Drive overpass and the overhead message board
-Removal of the existing guardrails between the pedestrian overpass and Salt Lake Boulevard. Temporary barriers will be installed
Weekend #3 - 11/4 to 11/7
-Removal and reconstruction of the asphalt concrete gutter in the shoulder between the pedestrian overpass and Salt Lake Boulevard
Scheduled Road Closures:
Weekend #4 – 12/02 to 12/03
2 - Lane Closure (Westbound)
Setup: Saturday 12/02/2022 7:00AM
3 - Lane Closure (Westbound)
Setup: Sunday 12/03/2022 7:00AM
Weekend #5 – 12/09 to 12/12
2 - Lane Closure (Westbound)
Setup: Friday 12/09/2022 8:00PM
3 - Lane Closure (Westbound)
Setup: Saturday 12/10/2022 8:30PM
Full Freeway Closure (Westbound)
Setup: Sunday 12/11/2022 8:00AM
Weekend #6 – 12/16 to 12/19
2 - Lane Closure (Westbound)
Setup: Friday 12/16/2022 8:00PM
3 - Lane Closure (Westbound)
Setup: Saturday 12/17/2022 8:30PM
Full Freeway Closure (Westbound)
Setup: Sunday 12/18/2022 8:00AM
12/23 to 12/25
NO WORK
12/30 to 1/01
NO WORK