About Us
A Brotherly Beginning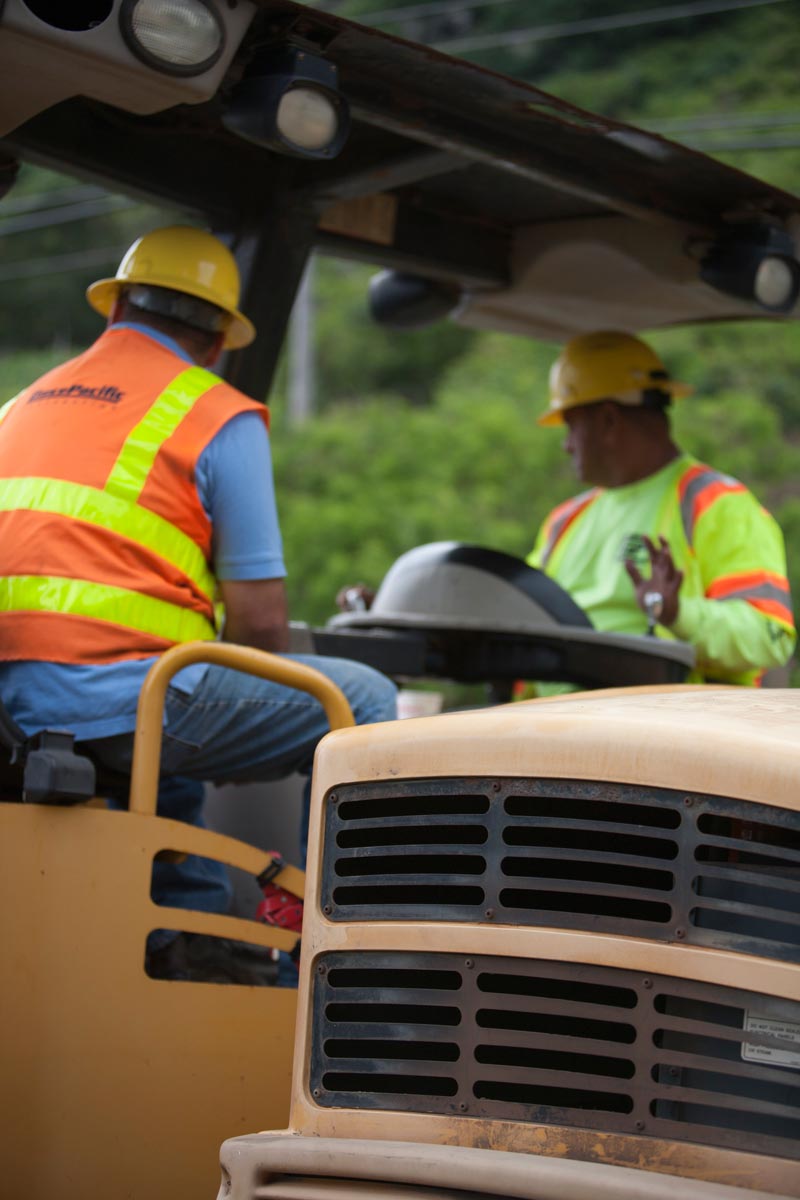 John and Walter Grace founded Grace Brothers, Ltd. in 1931, providing specialized equipment and materials to Hawaii's construction industry. The company continued to grow and eventually represented more than 50 agricultural, construction and industrial equipment manufacturers, distributing its products throughout the Pacific.
Prompted by statehood in 1959, the ensuing construction boom of the 1960s and the record number of tourists in the 1970s resulted in major airport and freeway construction in the islands. Grace Brothers entered the paving industry at an opportune time in 1973, purchasing the paving operations and hot mix asphalt plants at Halawa and on Molokai from Nanakuli Paving and Rock Company.
In 1984, Grace Brothers acquired Pacific Concrete & Rock, a quarry and ready-mix operator on Oahu, and renamed the combined operations Grace Pacific Corporation. The company expanded its product line to include the manufacturing of hot mix asphalt and the production of crushed basalt, limestone and sand aggregate. Operations grew with the establishment of hot mix asphalt plants and paving operations on Maui and the Big Island in 1988 and again with the purchase of the quarry on Molokai in 1994.
Recent acquisitions that have solidified Grace Pacific's reputation as a leader in the paving industry include its purchase of Hawaiian Bitumuls Paving & Precast, a highly respected islandwide paver since the 1930s; Niu Construction, a paving contractor on Kauai for the more than 25 years; and SUN Industries, a provider of roadway safety products and services. Grace Pacific continues to diversify its lines of business, featuring more construction services than ever before.
Our Landmark Work
During its rise to the top of the paving industry, Grace Pacific has worked on virtually all of the streets and highways throughout the state of Hawaii. Recent projects on Oahu include preventive maintenance work on Kamehameha and Nimitz Highways and innovative improvements on the Moanalua Freeway. On Maui, we resurfaced the Haleakala Crater Road and completed guardrail and shoulder improvements along Hana Highway. On the Big Island, Grace Pacific has worked on Saddle Road and been involved with numerous large projects on Queen Kaahumanu Highway and Mamalahoa Highway.